Raptors Draft "The Brazilian Kevin Durant"
Bruno Caboclo. If you're wondering who that is, then you are not alone. If you already knew who he was before the draft, then congratulations you are one of very few who did. Who is he? Caboclo is the newest Toronto Raptor as they selected him with the 20th pick in the 2014 NBA Draft. NOBODY saw this coming. Caboclo was not projected to be a first round pick by any notable mock draft, and not even a second rounder by many. But Masai Uriji and the Toronto Raptors liked what they saw in Caboclo after scouting him earlier in the year and picked him up at 20. Reportedly a very raw player, Caboclo could still be a few years away from being an impact player in the league but here's a quick look at the Raptors draft pick who was labeled "The Brazilian Kevin Durant".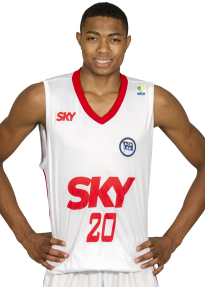 This pick is all about potential. Bruno Caboclo is the youngest player in the draft, and standing six feet nine inches with a SEVEN FOOT SEVEN wingspan, and an athletic body, it's obvious that he has immense potential. Caboclo was the Basketball without Borders MVP in 2014 which is no easy feat to accomplish. He has a solid shooting stroke that with maintained consistency could eventually become a deadly weapon for him to have at his disposal, but for now he must rely on his athleticism and ability to get to the rack on offense. Defensively, Caboclo looks like a definitive positive asset. His height, length, and athleticism will give him the opportunity to shut-down opposing players on a nightly basis. All of this is true, he has the potential to become a deadly scorer and shutdown defender, BUT with so little information on him, nobody really seems to know if he realistically will pan out the way all Raptors fans hope he will. The Raptors really are banking completely on the potential of this "Brazilian Kevin Durant", for their sake, hopefully Caboclo is able to capitalize on his potential. If not, Masai Uriji might have just thrown away a first round pick.