Grassroots Canada Deserve Respect
Shame on a lifestyle writer this week who wrote a report about the development of young talent in Canada. In the midst of his feature a unnecessary jab was taken at the Canadian pioneer program north of the border Grassroots Canada. Especially through a media giant the author should have refrained from polluting impressionable minds. Kids, parents and more so the average sports fan, now more than ever, taking interest in Canadian basketball.
From the early 90's moving forward, significant parts of our Canadian basketball history   has been generated by Grassroots Canada, formerly named Toronto Elite. A program arguably responsible for establishing today's pipeline of Canadian basketball talent flowing freely to the NCAA & NBA levels.
Deservingly, the positives of today's powerhouse program CIA Bounce should be recognized and reiterated on a mainstream media podium. Except a reference to the "controversial" Ro Russell diminishes the report.
Since assisting its first scholarship in 1992, Toronto Elite later named Grassroots Canada in 2000 has long established itself as one of Canada's premier Student Athlete Development Programs. Grassroots has worked with over 3000 student- athletes at different levels in the last 20+ years and have seen over 500 elite members go off to various scholarship situations in the US and Canada. Most notable is current Team Canada focal point PF Tristan Thompson. Thompson a NBA professional, recently in July 2013 made a donation to the Grassroots program. A club he joined at the age of 13.
"I feel it's important to give back to a program which has done so much for me and my family in terms of my development on the court and off the court" Thompson said at the time.
"when your fortunate to be blessed I feel it's good to bless others and give these young student athletes the opportunity.  Like going to Vegas and competing against the other top talent in the USA" Tristan added.
In 2008 at the prestigious Las Vegas Fab 48, Grassroots Canada led by Thompson & Junior Cadougan became the first ever youth basketball program from Canada to lift a major AAU crown. In that summer of 2008 Grassroots boasted a potent roster also including San Antonio Spur Cory Joesph, Myck Kabongo, Brady Heslip, Jason Calliste, Dwightl Powell and Renaldo Dixon just to name a few.
We are talking at large about a inner city Toronto program who at one point or another played a massive role in developing almost a dozen of Canada's current player pool chosen in preparations for the 2013 FIBA America Championships later this month in Venezuela.
Olu Ashaolu (invited but forced to report to his pro club in France) Jr Cadougan, Tristan Thompson, Cory Joseph, Myck Kabongo, Devoe Joseph, Brady Heslip, Jevohn Sheppard and Jermaine Anderson to be exact.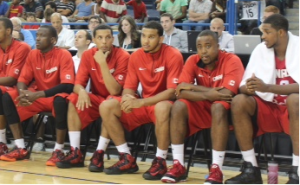 A program that has also produced pupils to NCAA assistant coaches like Marquette's Jaimie McNielly and American's Assistant Nate Phillipe. Even the very first ever Canadian head coach in the NCAA ranks, D2 Stonehill College head Chris Kraus.
Fallstaff Community Center is the Grassroots program head quarters
and also pretty iconic in Canadian basketball circles.  At some point in time tons of great players have tossed it up at Fallstaff. Including some our Senior Men involved with team Canada as part of their development.
Canadian quick-strike three-point assassin Brady Heslip when asked about his experience at Fallstaff Community Center while playing with Grassroots Canada he responded,
"I'm blessed that I was a part of it, Coming from Burlington, the suburbs, that played a role in making me tougher as a basketball player. Making me tougher as a person. Just diversifying myself & making relationships… Junior [Cadougan] (also member of Team Canada) is one of my best friends ever. Like we grew up going to Fallstaff [Community Center] together, taking a journey together to get there, but you know it was all worth it in the long run"  Heslip also touched on how he still cherishes and keeps the time spent with Grassroots in high regard,
Brady Heslip the three point specialist for both the Baylor Bears and Team Canada.
"It's unbelievable what Grassroots does for kids,  I mean if it wasn't for Coach Ro I wouldn't be in the situation I'm in today. He always kept telling me push for your dreams. My dream was to play division 1 basketball and he kept that alive. Even when you know it looked slim and the chances didn't look good. He kept pushing for me" As for his highlight or signature moment under Grassroots Canada?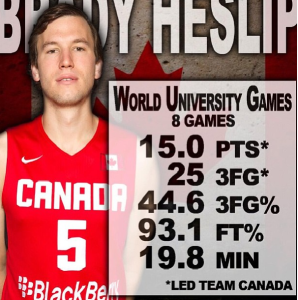 "I had played with Cory & Myck for like 4 years or whatever. On the same team It wasn't really my team. I really didn't get to do my thing, so when those guys weren't there for my last summer it was my team. Coach Ro just gave me the ball and gave me the green light. I ended up leaving that summer with scholarship offers from all over the country. If it wasn't for that experience and him pushing me, no way I'd be in the situation I'm in now."
Recently undrafted Myck Kabongo is also a supporter of the Fallstaff foundation,  "Obviously a lot of great players have come from there a lot of development happens at Fallstaff.  Just people that work hard … It's a gym that's like open 24 hours a day." Kabongo who recently switched agents to Bill Duffy, same representative as Steve Nash will attempt to crack a NBA roster or seek an opportunity with a European club this October.
Tristan Thompson the Cleveland Cavalier is an ambassador and credited the community center in Toronto also. "Fallstaff has been big for my development. I played under Fallstaff Community Center with Grassroots,  so it was definitely good to me….been a lot of good players that come through there, it definitely goes back"
During 2002, Grassroots Canada had 18 alumni's attending D1 programs. In recent years some alumni's in the NCAA that have bled for Grassroots in the past are:
Nik Stauskas (Michigan), Junior Cadougan (Marquette), Chris Johnson (St. Bonaventure), Myck Kabongo (Texas), Dwight Powell (Stanford), Agunwa Okolie (Harvard), Renaldo Dixon (New Mexico State), Jason Calliste (Detroit), JP Kambola (Marshall), Chadrack Lufile (Wichita State), Alwayne Bigby (Rhode Island), Christian Kabongo (Morgan State), Kaza Keane & MyKyle McIntosh (Illinois State), Juevol Myles & Brandon Bos (South Dakota), Dwayne Smith (George Washington), Troy Joseph (Long Island), Brady Heslip (Baylor), Grant Mullins (Columbia). Braeden Anderson (Fresno State) Jalyn Pennie (New Mexico State), Kadeem Coleby (Wichita State) and Dwight Coleby (Mississippi)
Looking ahead to 2014 and some names who to keep tabs on:
6'4 combo guard Lincoln Samuels who attended Life Center Academy, NJ in 2012-13. Samuels is still debating his prospects for this September.
6'3 guard Jamar Ergas who will return to 22ft Academy in the Carolinas. Incredibly athletic with reputation of being a rare "super freak". His scouting report reads steady improving skill set. A high major player with a strong work ethic and professional potential.
6'4  guard Kamar McKnight a south paw who is known as a strong, gritty elite type of competitor. Scouting reports say Kamar is well rounded guard who can equally score, pass and shoot the rock with the best of them. This past summer the high major prospect transferred from St.Patrick HS to St.Benedict HS within New York. Leaving a reputable program for one of the more prestigious ones.
Last but not least, who is the future poster boy for Grassroots Canada?
Class of 2018 6'4 Guard Shakur Daniel. Who experts say is a monster in the making and has serious potential to be the no. 1 player in the 2018 class across all of North America. Brian Merrit, American talent evaluator told Hoops Hype Canada (HHC)
"Shakur is extremely talented, very hungry young man for his age. He has a upside that is off the charts. I first saw him when Ro Russell sent him to the John Lucas Future Of The Game Camp in Hampton Virginia when he was in 6th grade."
Merrit added "Just very high & exceptional work ethic for his age"
Despite a vendetta from a certain media giant, in addition to a lack of respect & recognition within Canadian basketball circles, it's refreshing to see alumni's both past and present, step up to the plate and speak highly of Grassroots Canada. It's imperative that kids that go off to college and beyond from these AAU programs are accessible and willing to come back in the gym and provide examples for the next wave of up and coming talent. You may not like Grassroots Canada but we must respect its legacy.
After all the old saying goes "Pioneers are often imitated but never duplicated". Let us not forget.